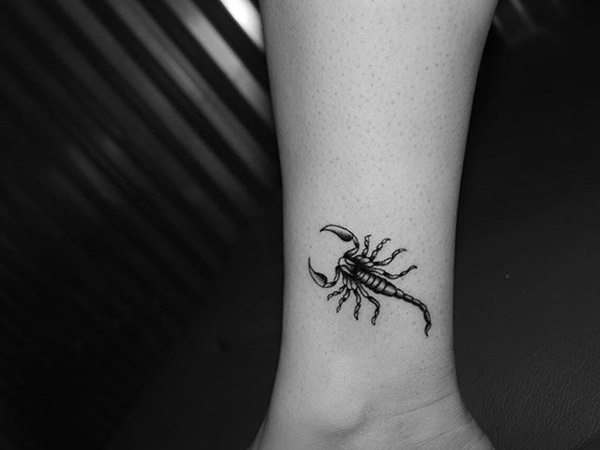 Scorpio is counted amongst one of the scariest insects. Scorpio Tattoo Designs signifies deadly power and intimidation too. These tattoo designs are popular amongst the people who have a daring nature. Scorpio tattoo symbolises the capability to regulate and defend oneself, powerful sexuality and a declaration of great strength. Here, we are giving you 10 Stunning Scorpio Tattoo Designs For Men and Women from which you can choose and get inked as per your choice.
Scorpio Tattoo Designs For Men And Women

Image Source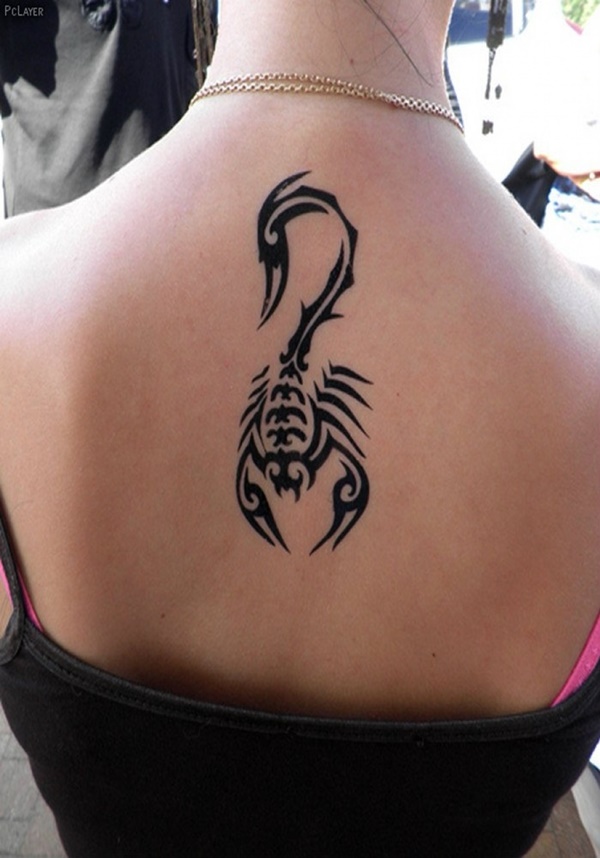 Image Source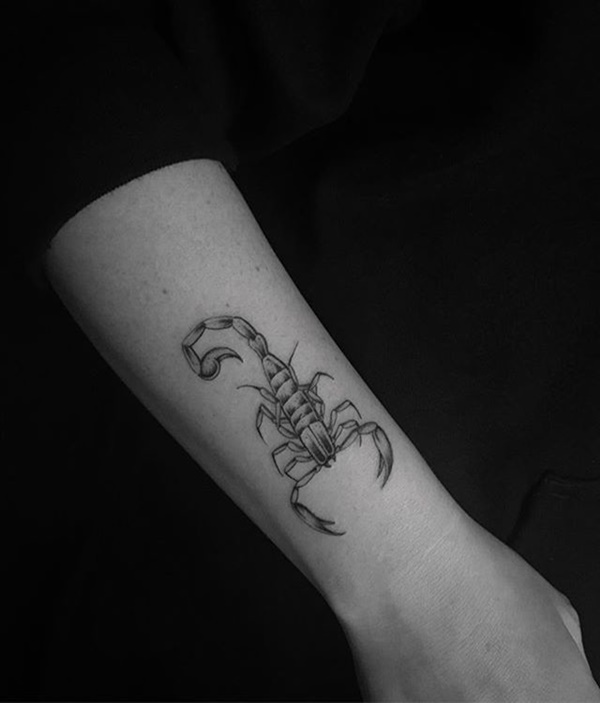 Image Source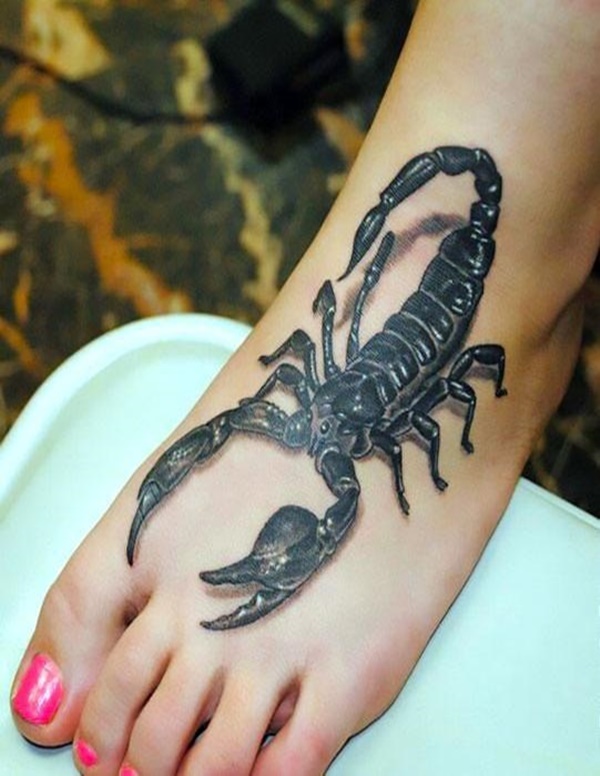 Image Source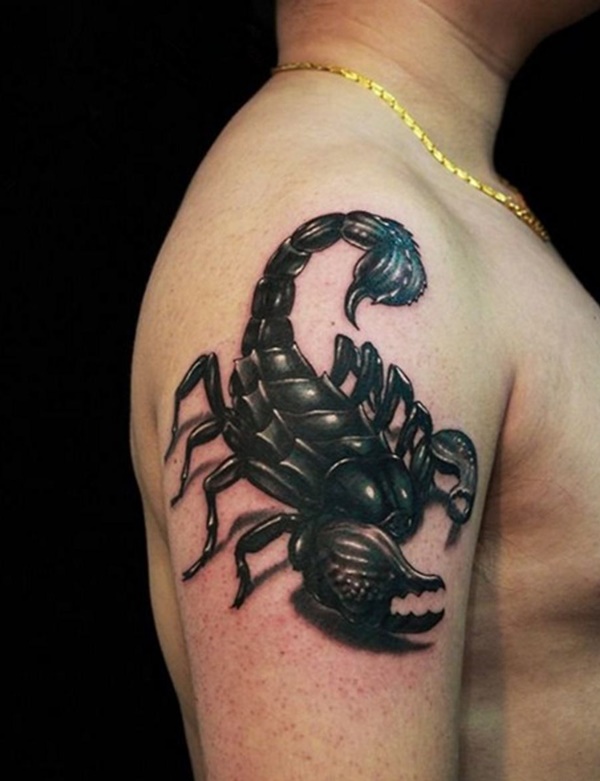 Image Source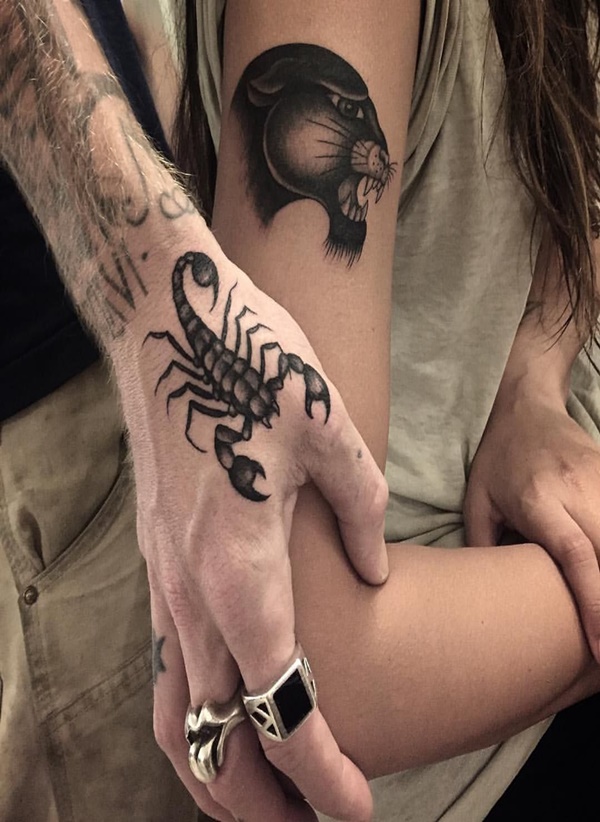 Image Source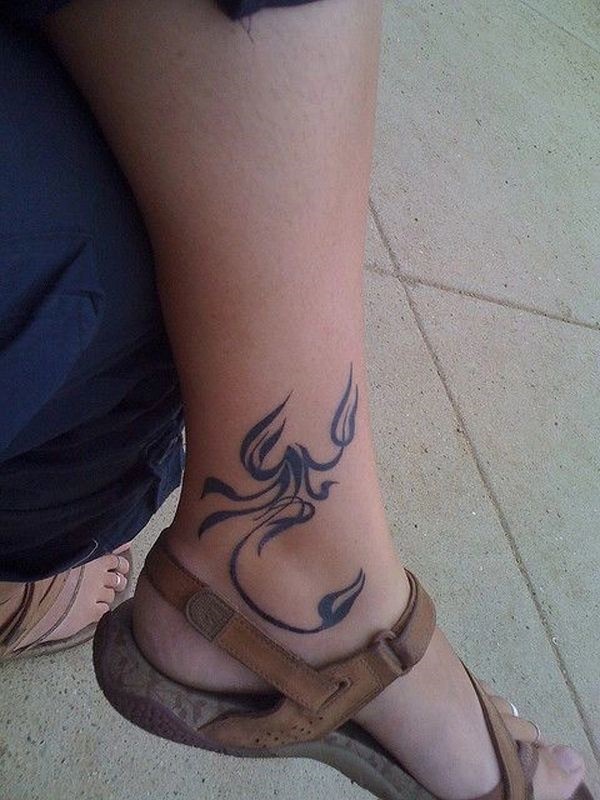 Image Source
Meaning and History of Scorpio Tattoos
Scorpions are very old creatures that predate human survival by millions of years they know this globe a lot better than we do! So getting this creature inked on your body will make sure that you are rocking an exclusive and special design.
Some symbolic meanings of Scorpion Tattoos are defense and control, Loyalty, Power, Fear and many more. In addition to this, the scorpion also symbolises the zodiac sign Scorpio and is, therefore, a lot opted for by those who are born between the month of October 24 and November 22.
Many cultures have attached important meaning to the Scorpio Tattoo Designs. The scorpion has ties with the Mayan, Buddhism, Egyptian, and Greek civilisations. For example, ancient Egyptians connected the scorpion with the goddess Selket, the protector of transitioning souls. In the sky, Zeus made the scorpion a constellation.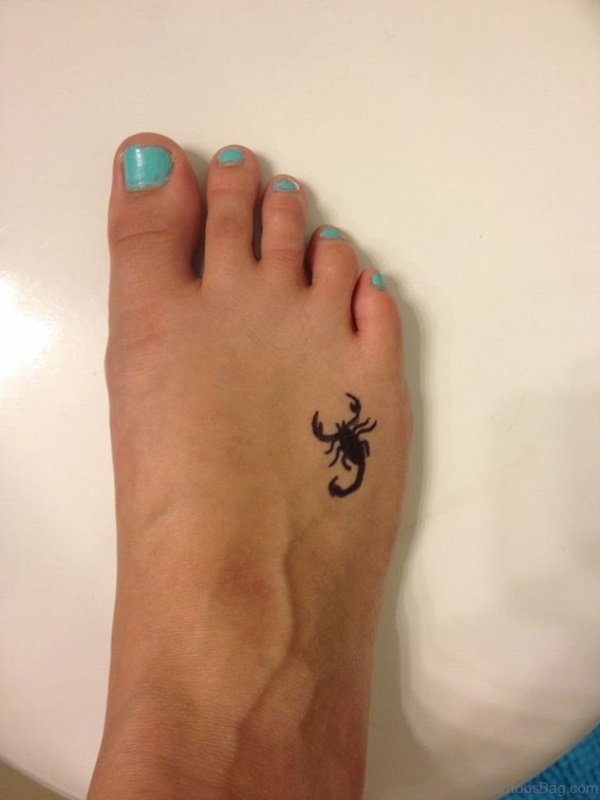 Image Source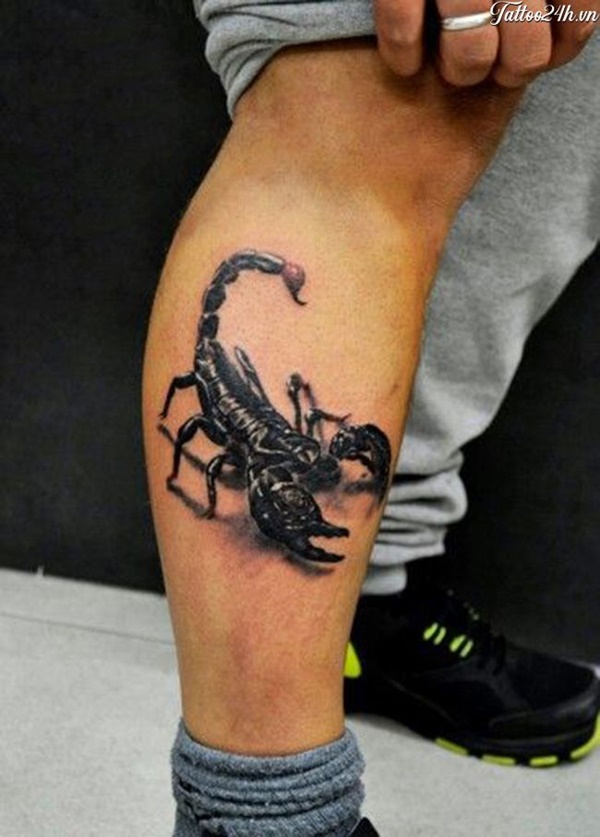 Image Source

Image Source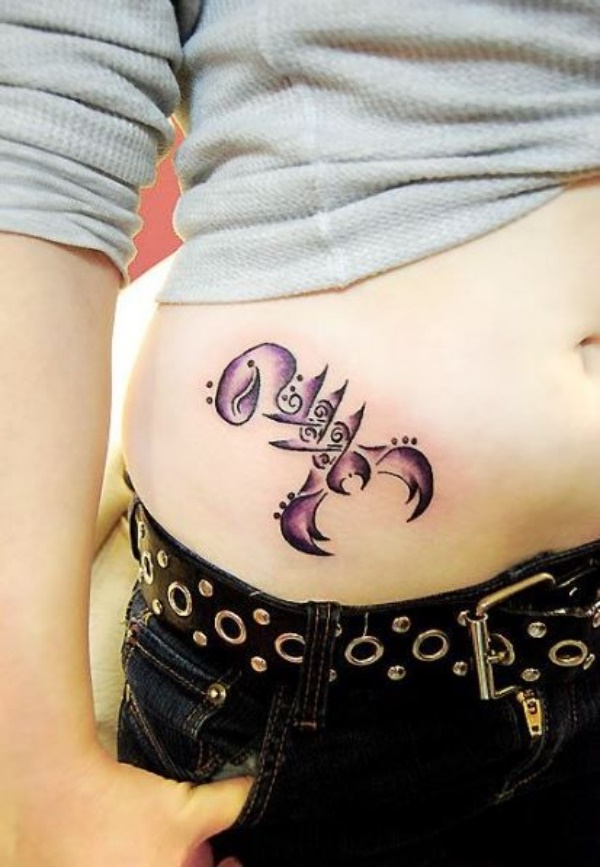 Image Source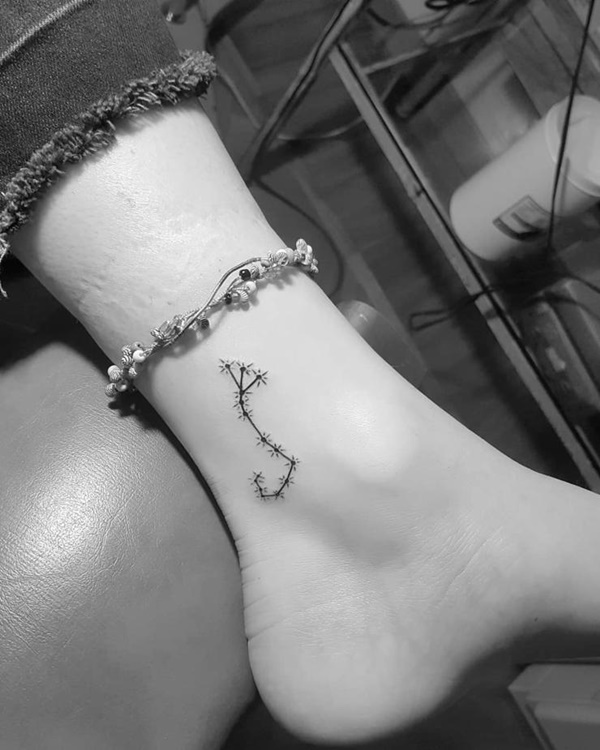 Image Source
What Does A Scorpio Tattoo Symbolise?
Many people get this tattoo inked due to several reasons. But in general Scorpion Tattoo symbolises:
Toughness and great strength
Intimidation and fear
Defensiveness
Loyalty
Endurance
Treachery
Passion and fierce sexuality and many more.
Traits of Scorpio Tattoo
Some of the positive and negative traits of Scorpion Tattoo are given below:
Positive:
Focused
Sensual
Loyal
Dignified
Devoted
Brave
Negative:
Manipulative
Resentful
Jealous
Secretive
Placements of Scorpio Tattoo Designs
Generally, Scorpion tattoo designs are small in size but some designs look fine if they are large. The placement of Scorpion Tattoo Designs totally depends on your choice. As Scorpio has a curved tail, then it looks very nice if placed on a curvy part of your body. Some highly preferred body placements for scorpion tattoos are Hand, Neck, Shoulder blade, Shoulder, Ankle, Chest, and Back.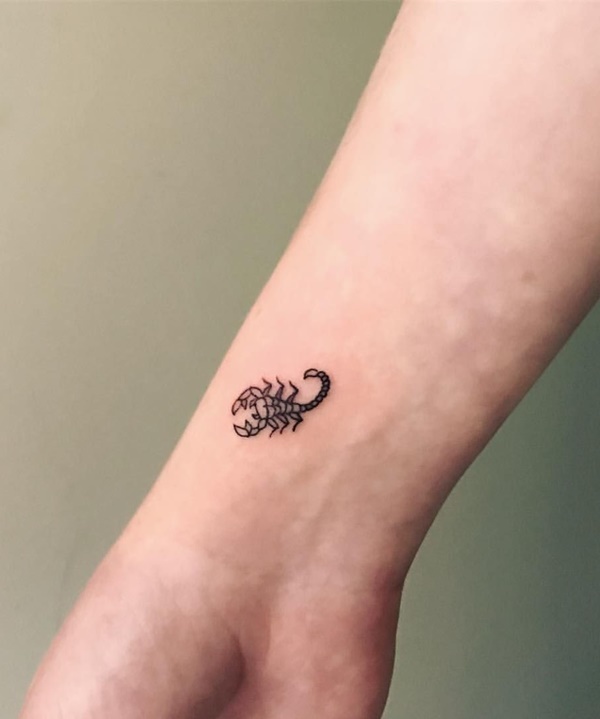 Image Source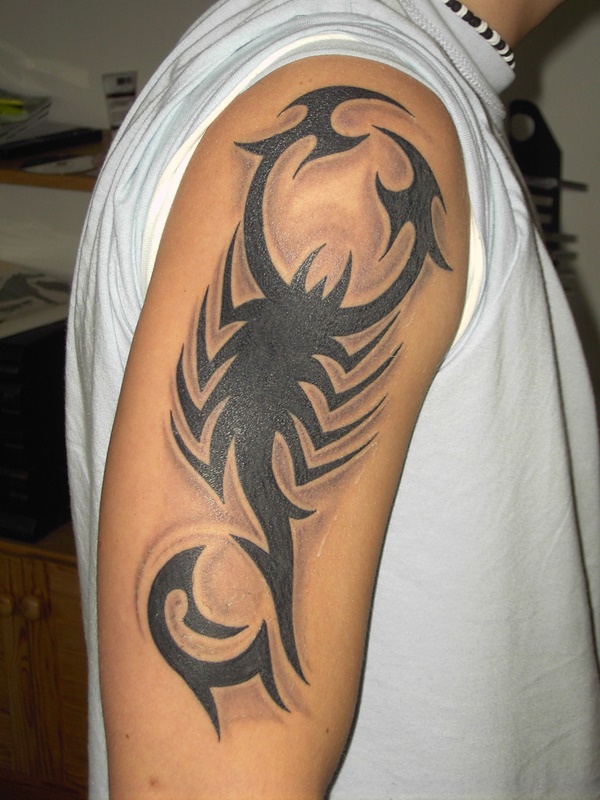 Image Source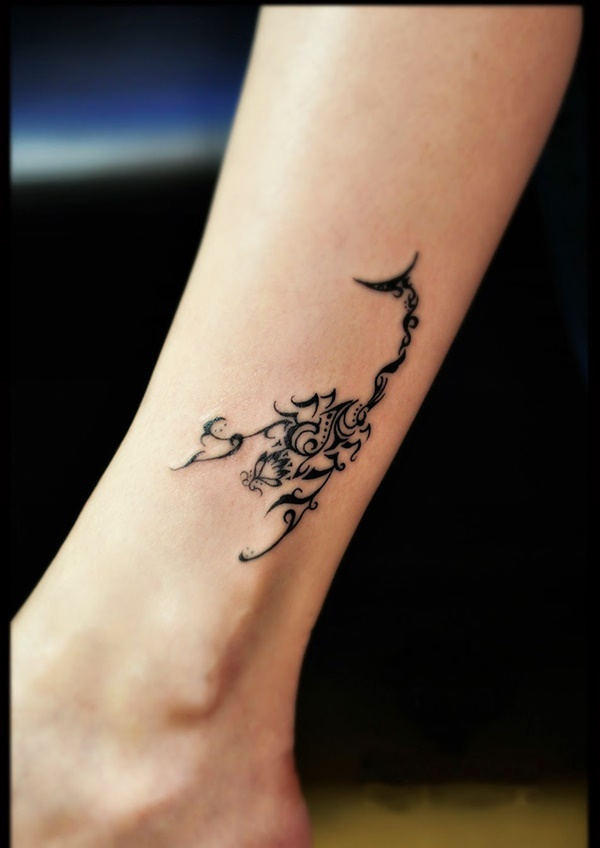 Image Source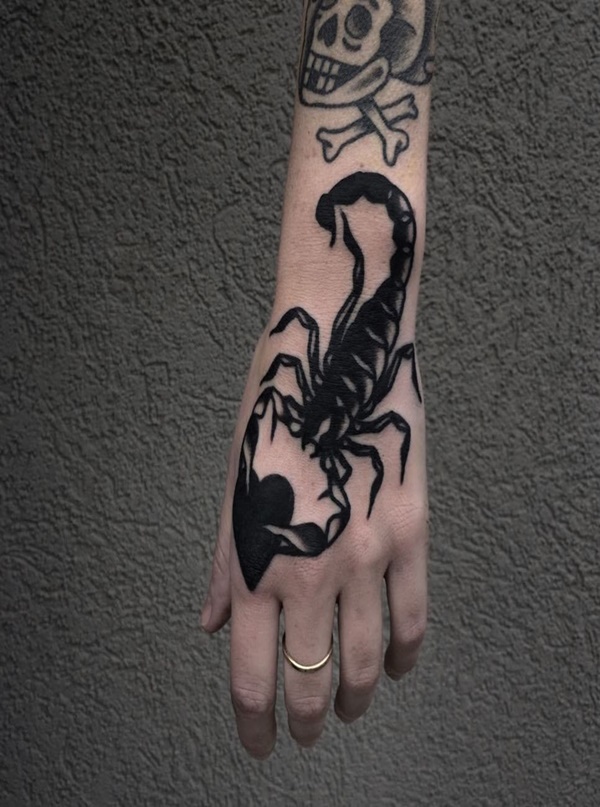 Image Source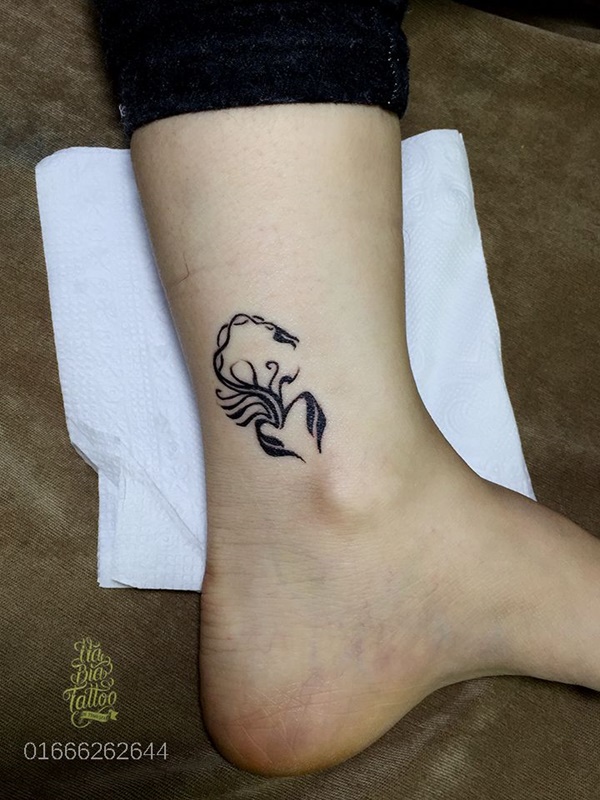 Image Source
Types Of Scorpion Tattoo Designs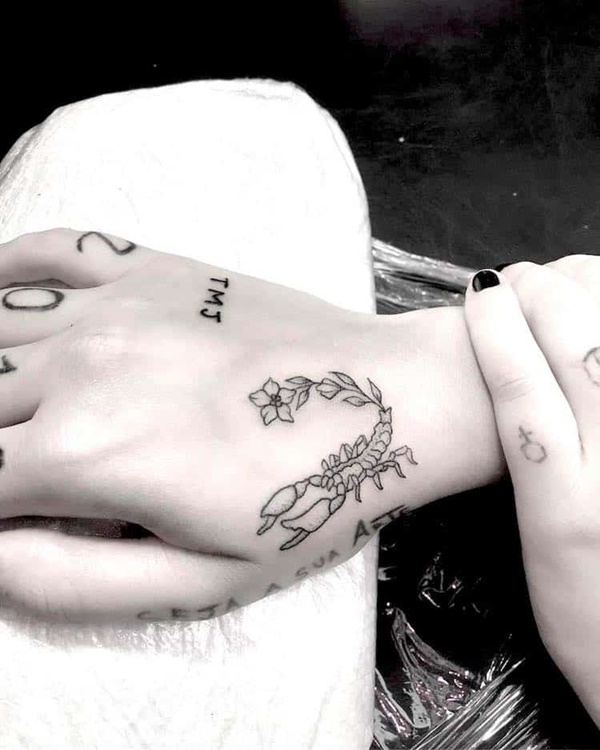 Image Source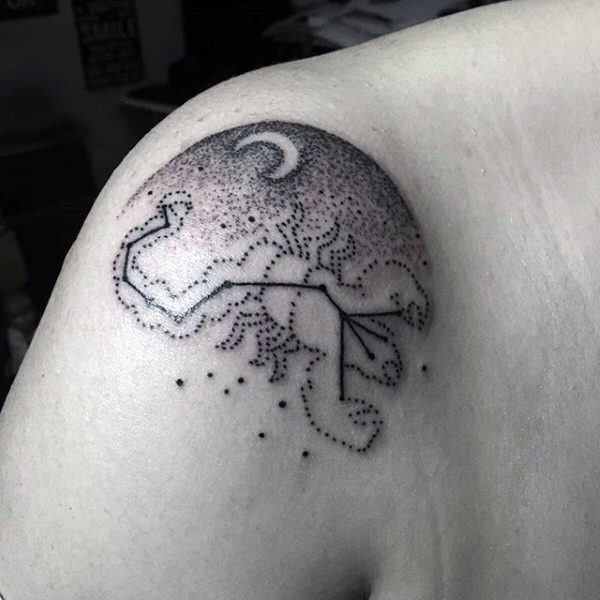 Image Source

Image Source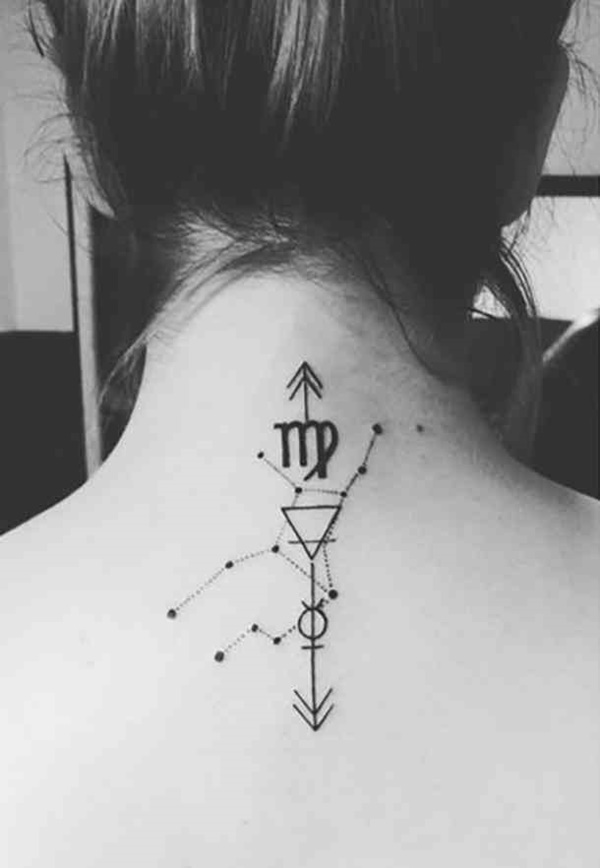 Image Source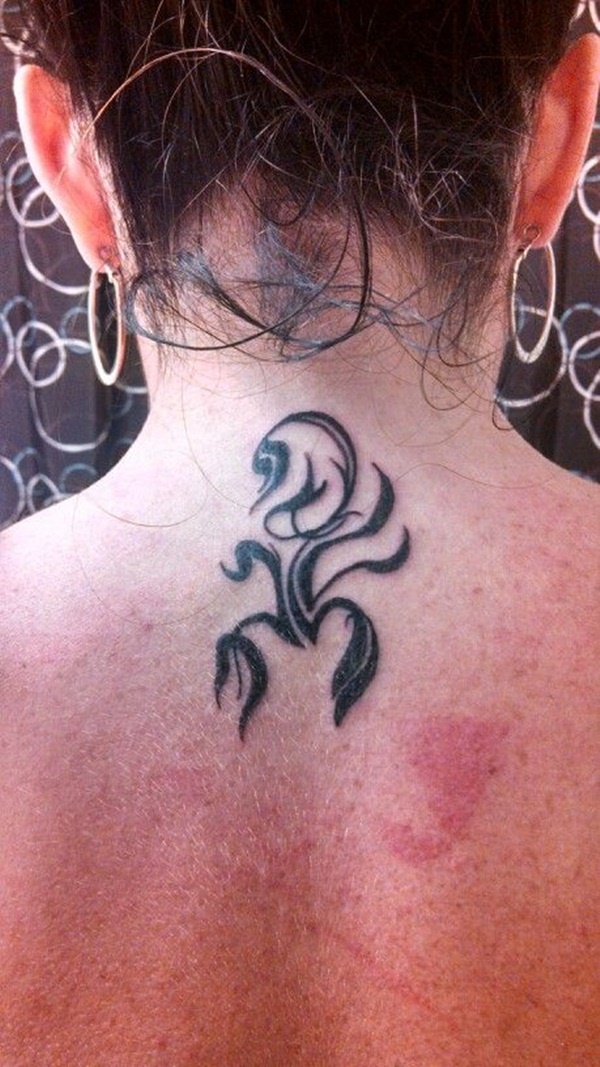 Image Source
Scorpio star constellation tattoo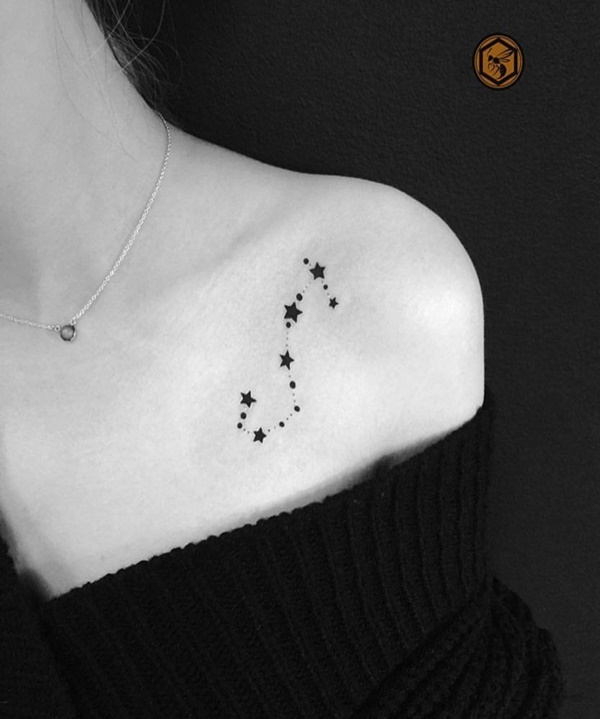 Image Source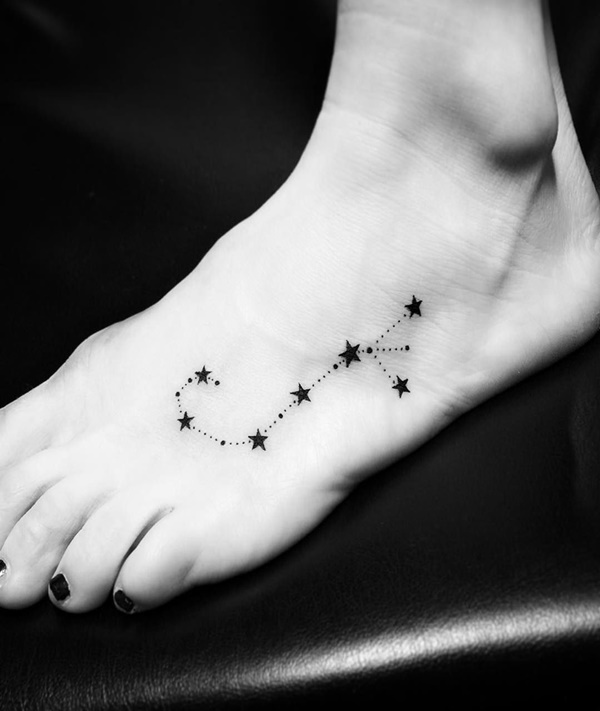 Image Source
Scorpion constellation tatt0o design is an exclusive tattoo design taking into consideration an astronomical sign, scorpion zodiac. The Scorpio constellation tattoo looks very attractive. Mostly women as compared to men select this beautiful tattoo design. You can add many colours to it to make it more girly design as well as elegant. Also, to create an eye-catching look you can design it with the bright silver and blue colour. To make it evident a typical Scorpio symbol can be added in it.
An Unconnected Scorpion Outline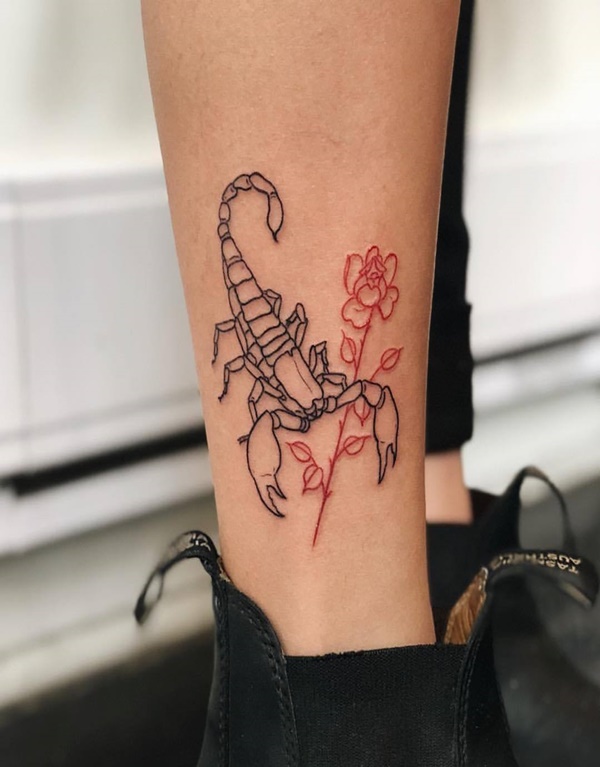 Image Source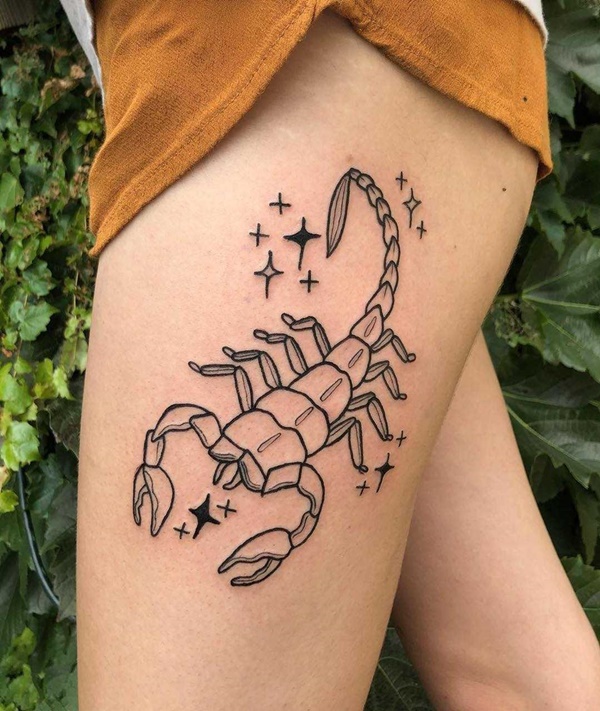 Image Source
The tattoo is a special art that encompasses creativity and innovation. As Scorpio venom is like fire in the veins so you can choose an unconnected scorpion outline as a tattoo. Designing a Scorpio using unconnected lines is a very unique idea that is ideal for both men and women. You can choose the colour of this tattoo as per your choices such as grey, black or combination or black with silver.
Scorpion Holding A Sword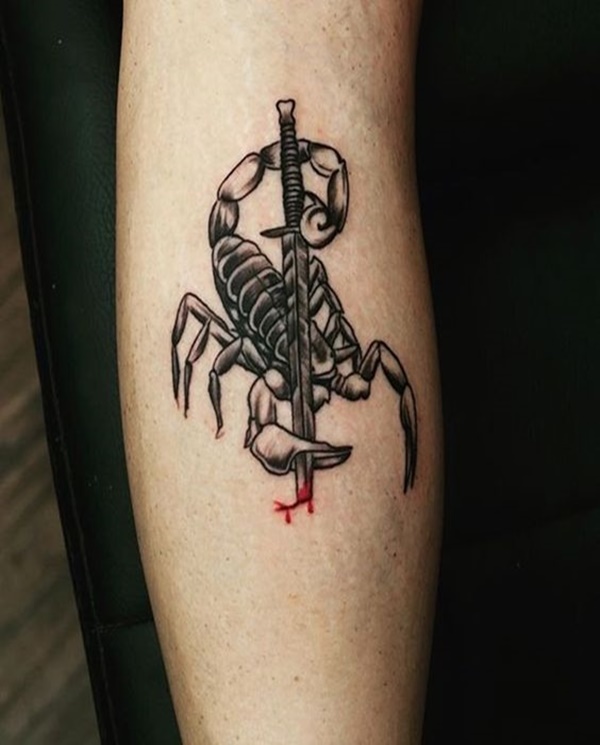 Image Source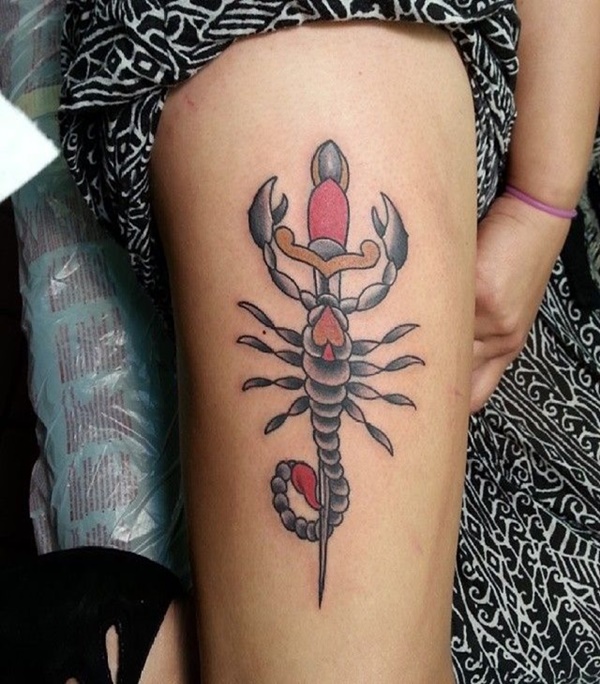 Image Source
In the list of Scorpio Tattoo Designs, next is Scorpion holding a sword. It is based on the idea of the contrast between the penetration of a sword and the thinking of a scorpion. This tattoo design also symbolises the terrible power of scorpion as a small creature. It is a perfect design for men as well as women and can be inked at shoulders or below neck at back. In addition to this, Scorpion holding a sword tattoo design signifies that the prospective power of people who are considered as lower by the society or crowd on the basis of their appearance or personality.
Tribal Scorpio Tattoos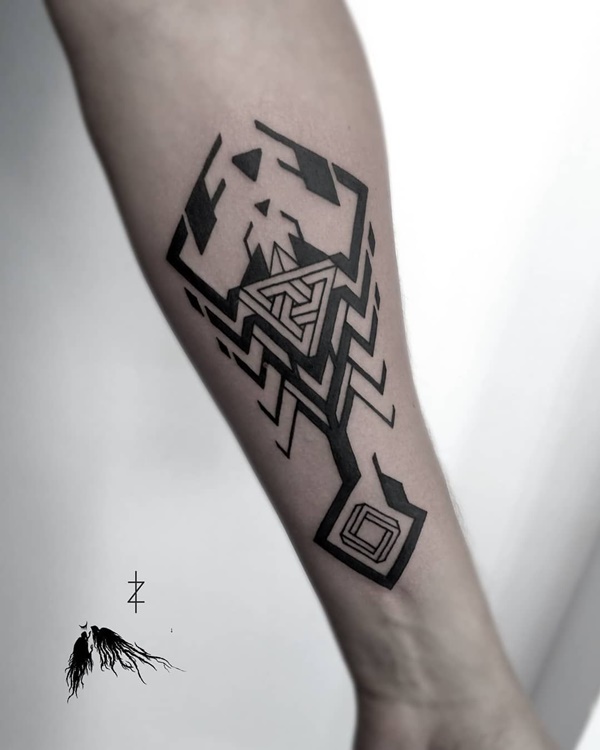 Image Source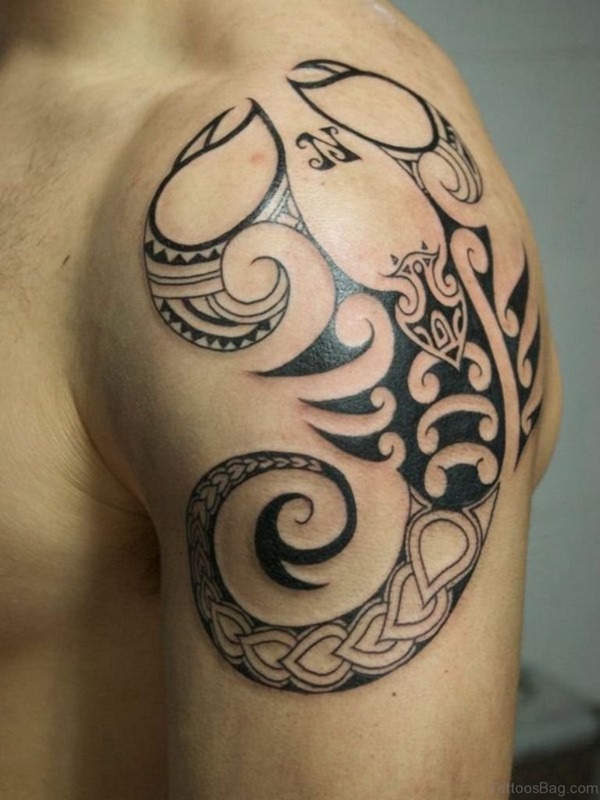 Image Source
Tribal tattoos look very awesome and are well known for their exclusive designs. A combination of tribal with scorpio tattoo is very nice. Due to the elegantly curved tail of Scorpio, its image with a tribal design can be very alluring if it is inked on a curvy part of the body. Tribal scorpio tattoo design mainly represents the shield against the evil spirits. Furthermore, you could have this tattoo design in all black with red eyes for making the eyes pop.
The Zodiac Sign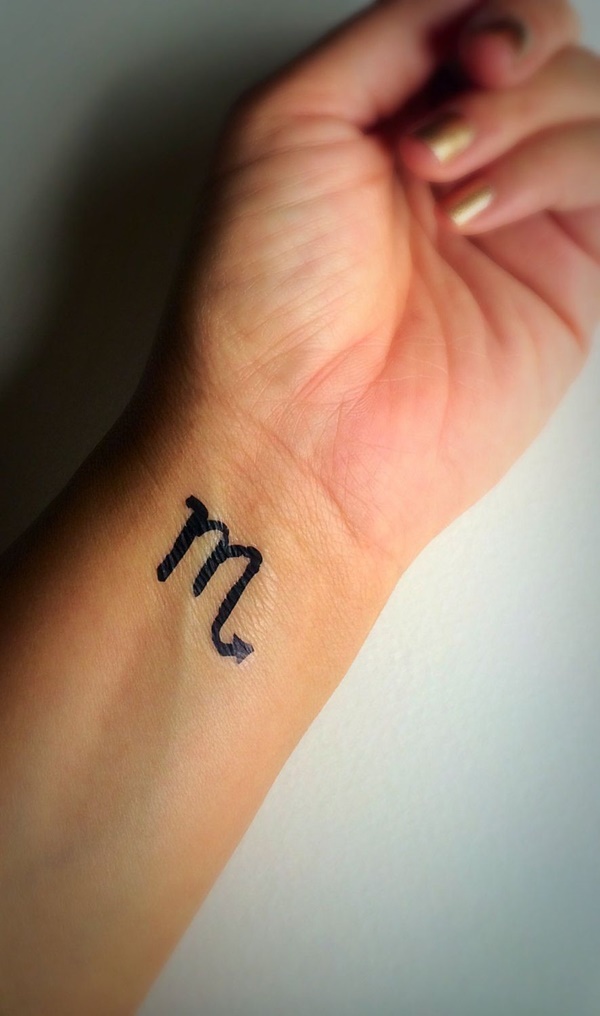 Image Source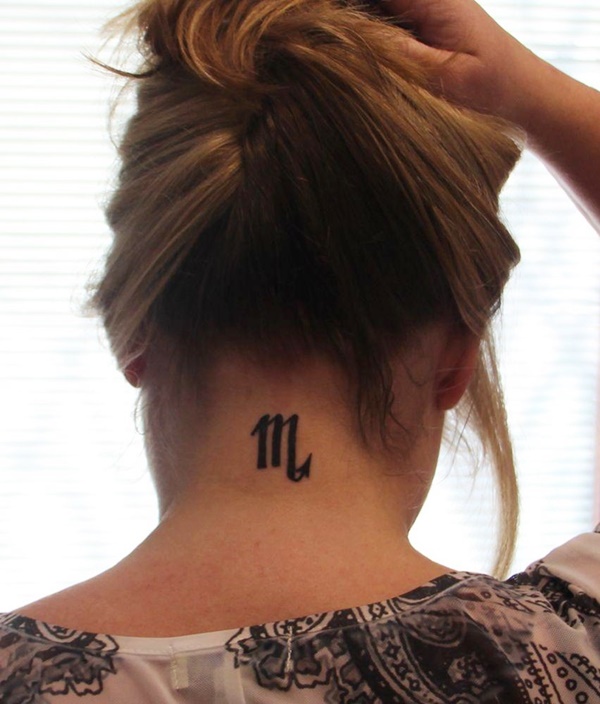 Image Source
The zodiac sign Scorpio tattoo design appears like a small letter of English alphabet m'. Girls mainly prefer Scorpio zodiac sign with flowers or add embellishments such as stars to the usual symbol. It makes the tattoo design look more girly and attractive. Boys can also choose black colour to design this tattoo. This tattoo is mainly a symbolic representation of internal strength and can be worn at shoulders, neck or arms.
A Scorpion Entangled In The Zodiac Sign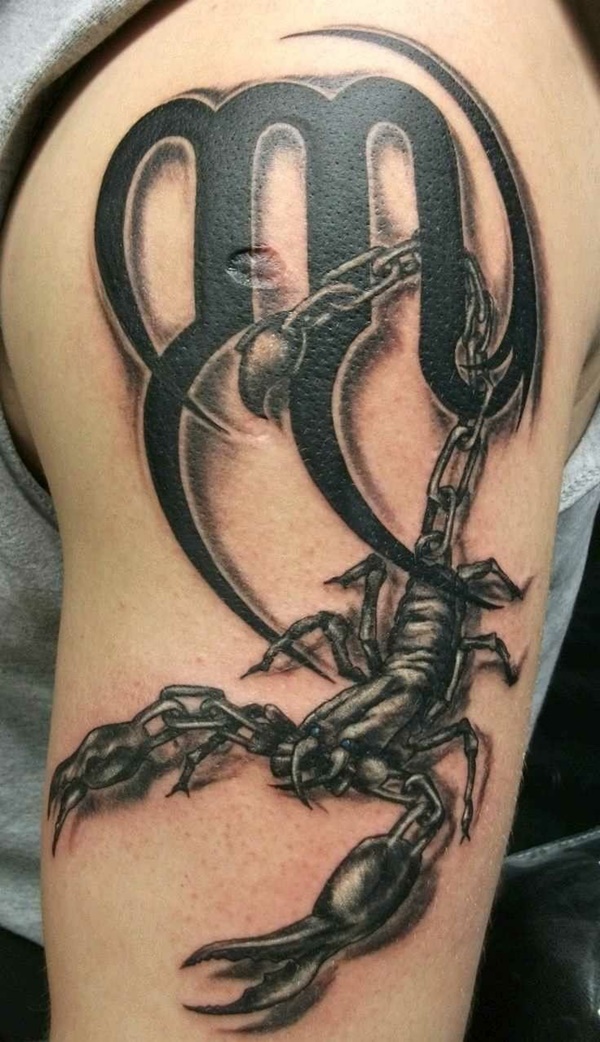 Image Source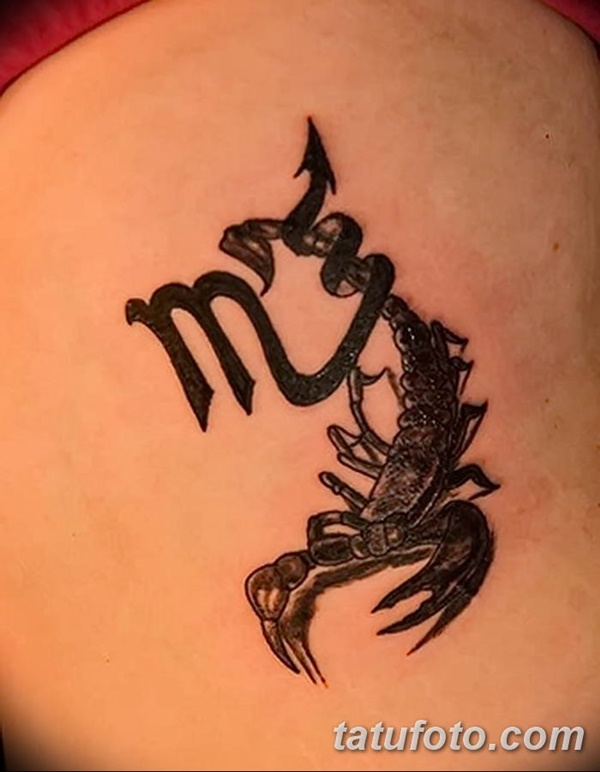 Image Source
To decorate your body, a tattoo is one of the most popular as well as nice-looking methods. A scorpion entangled in the zodiac sign is a modern idea and can be done in an assortment of colours, such as brown, black, red, and tan. This type of Scorpio Tattoo Designs represents intimidation and fear. This tattoo is not gender specific so everybody can get one. Apart from this, a tattoo with the image of a scorpion on a woman signifies power and capability.
3D Scorpio Tattoos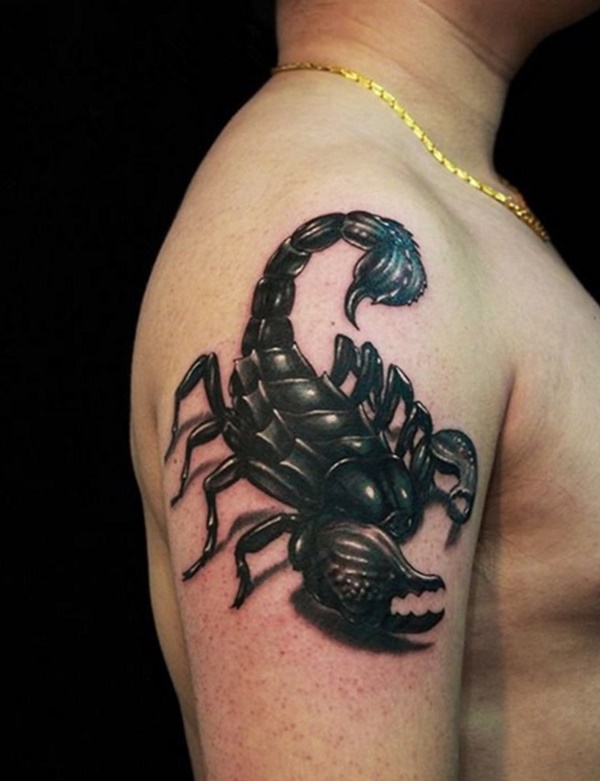 Image Source
Due to its dark connotations, scorpio tattoos are very popular in some cultures and countries. A special technique of art is followed in a 3D scorpio tattoo for creating an appearance like a real picture of a Scorpio. On the other hand, scorpions are actually different and very simply recognisable and thus make for an incredible Scorpion Tattoo Designs.
A Colourful Scorpio Tattoo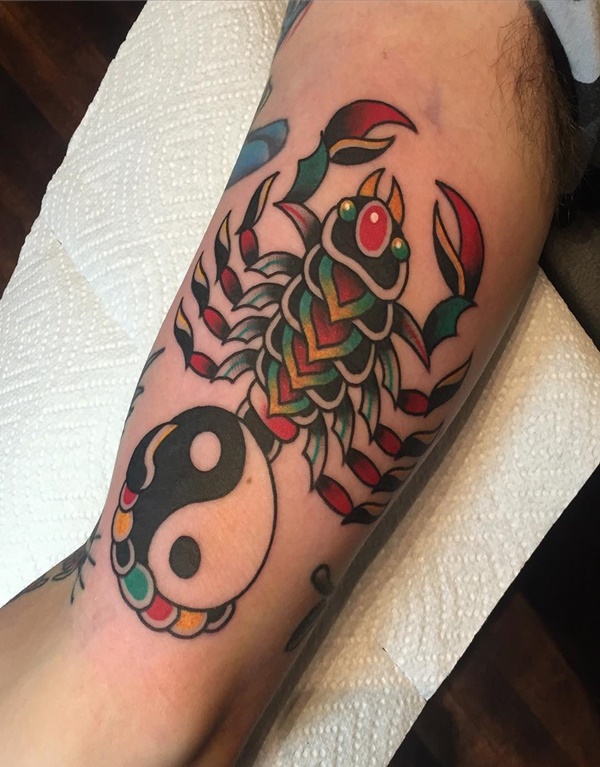 Image Source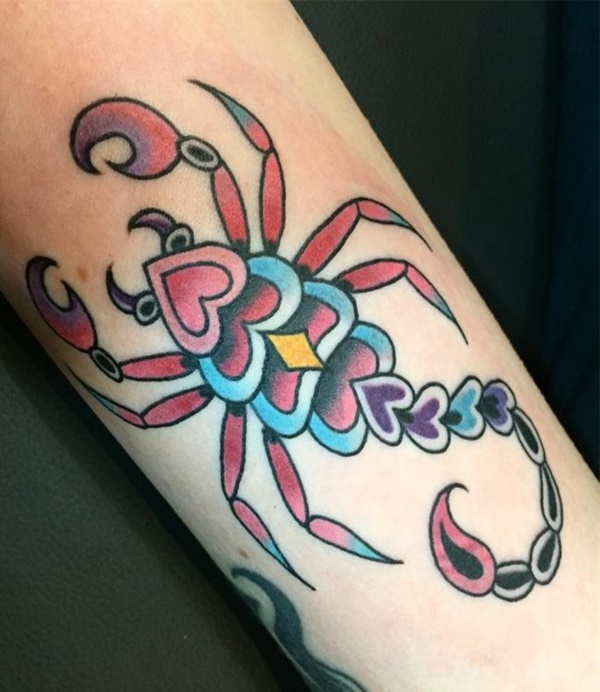 Image Source
Frequently, the scorpio tattoo is coloured with black as it shows its dark side. But as per your choice, you can ink this tattoo in various colours, especially bright colours. Bright colours will help in creating the look of scorpio tattoos more realistic especially intimidating. In some cultures Scorpio also represents victory, so you must go for this colourful Scorpio Tattoo Designs.
Scorpio Symbol Heart Shaped Tattoo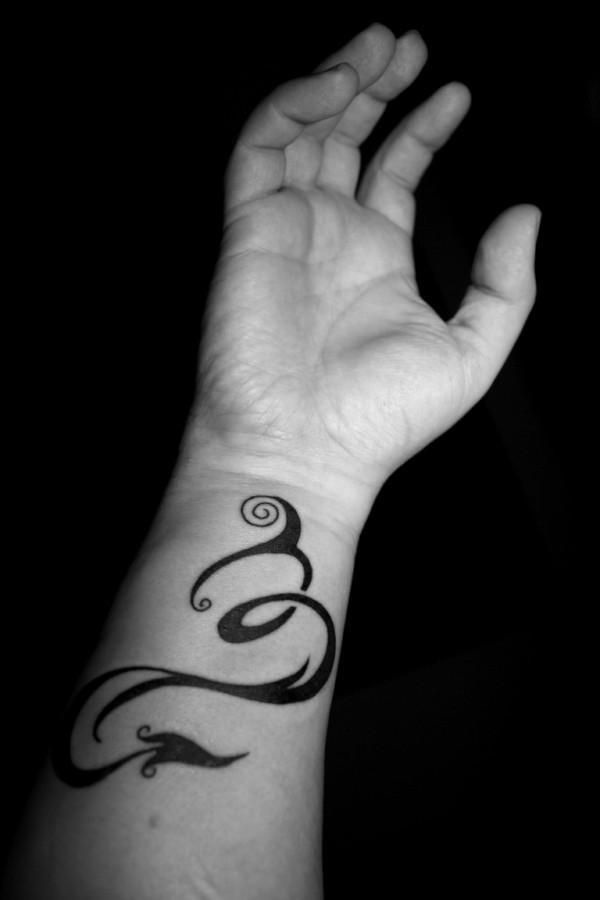 Image Source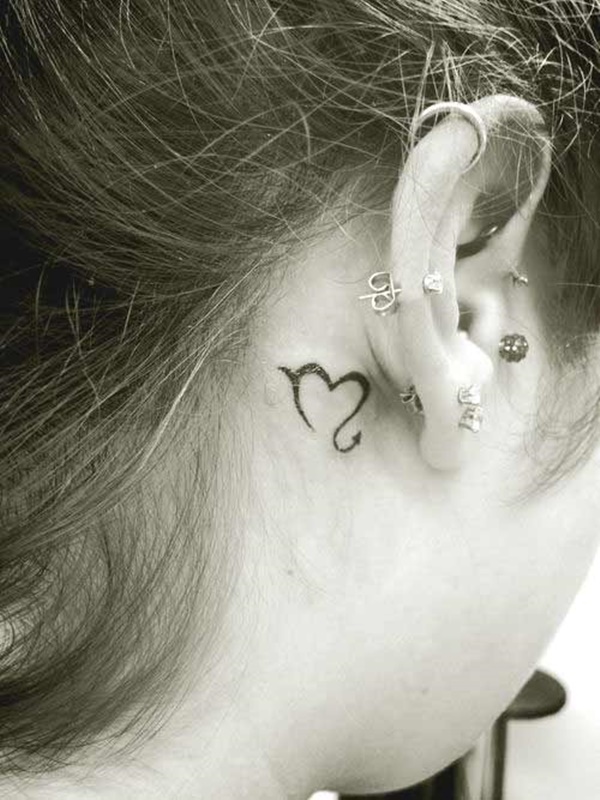 Image Source
 The usual Scorpio symbol can be made to look more creative by curving it for forming an abstract heart. This tattoo design describes some positive traits such as Ambitious, Sensitive, Loyal, Dignified and Sensual. Hence, you must choose this design to be inked on your arm or neck as this will show your love for that specific zodiac sign.
A Scorpio Kanji Tattoo Design

Image Source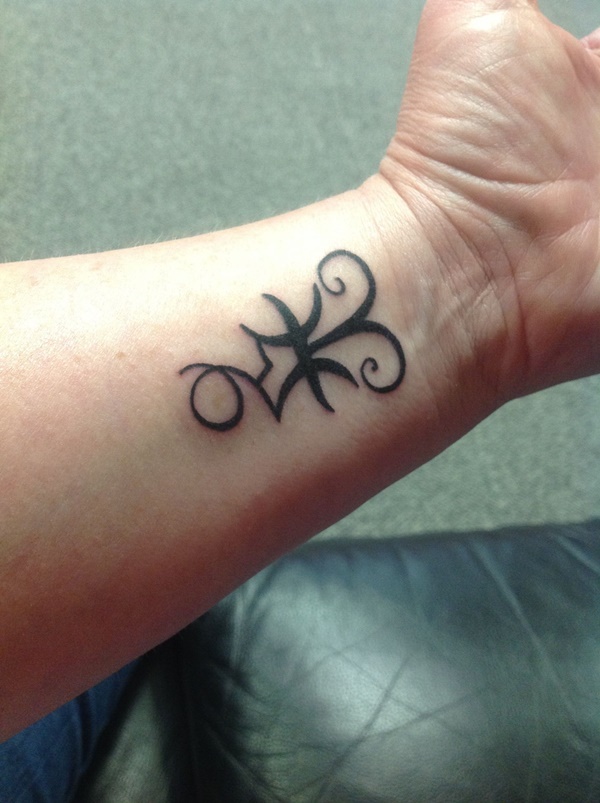 Image Source
In Japanese, Kanji is the form of lettering and is a famous tattoo design. The best place to get this tattoo inked is on your lower back. A scorpion with kanji lettering next to it looks precisely mysterious as well as enigmatic. Additionally, if you want to make this tattoo design more enigmatic then you can add other elements in the design such as a girl's silhouette woven into the Scorpio. The lettering can read Scorpion so making the meaning of tattoo more evident.
Scorpio Tattoo on Neck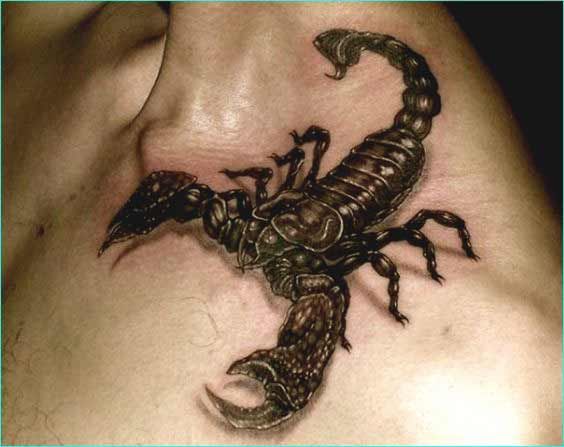 Image Source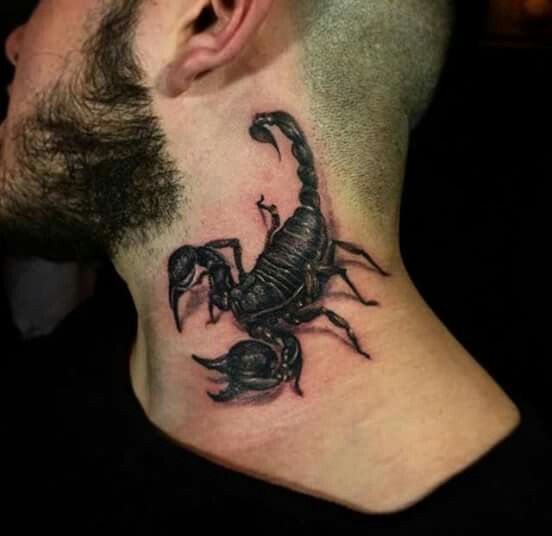 Image Source
To get Scorpio tattoo on the neck is a good idea as everyone can see your tattoo. You can go for a coloured Scorpio Tattoo Designs such as red and black. As scorpion tattoo symbolises defensive nature so you can go for a Scorpio design which depicts that lethal part can inject venom and the victim can get paralysed. Hence, so represent it, the best part for the placement of this tattoo is the neck.
Girly scorpio tattoos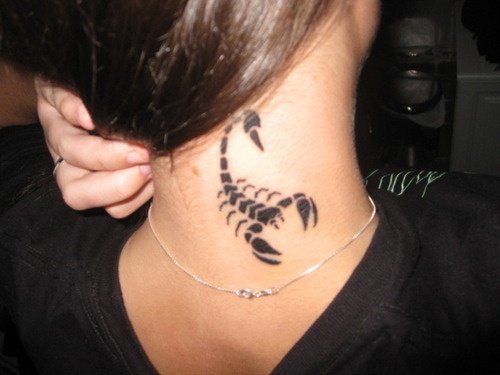 Image Source
Girls also highly preferred to get inked Scorpion Tattoos. Girls like flowers so they can go for a Scorpio tattoo with some floral design around it. This will make the design more exclusive as well as distinct. The floral patterns can be highlighted using different color ink. Moreover, as per your desire, you can get this tattoo in any part of the body.
Realistic scorpio tattoo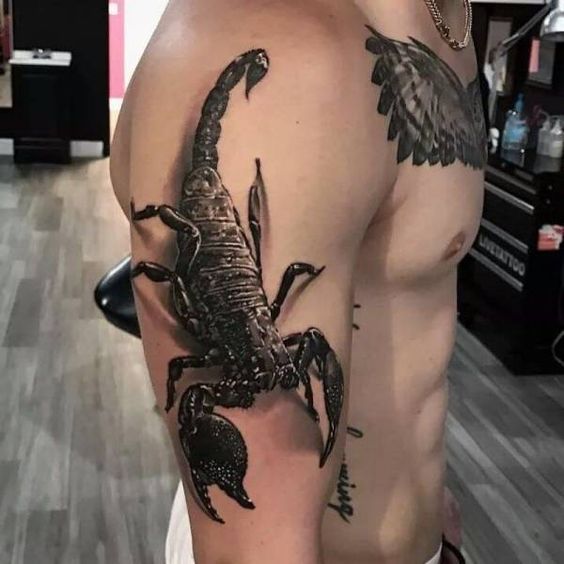 Image Source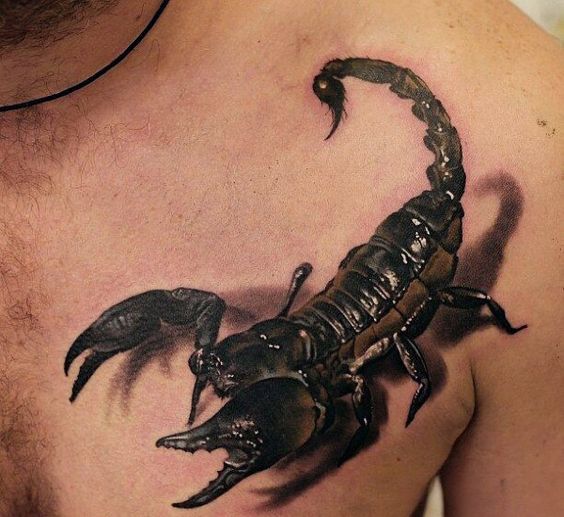 Image Source
Next in the list of Scorpio Tattoo Designs is a Realistic scorpion tattoo. This type of design lets others know that you are very much optimistic about this design. Realistic scorpio tattoo indicates that wearer can be very resourceful in defeating enemies. This tattoo design is ideal for both men and women as well as best done on the shoulder and back.
Scorpio tattoo on hand

Image Source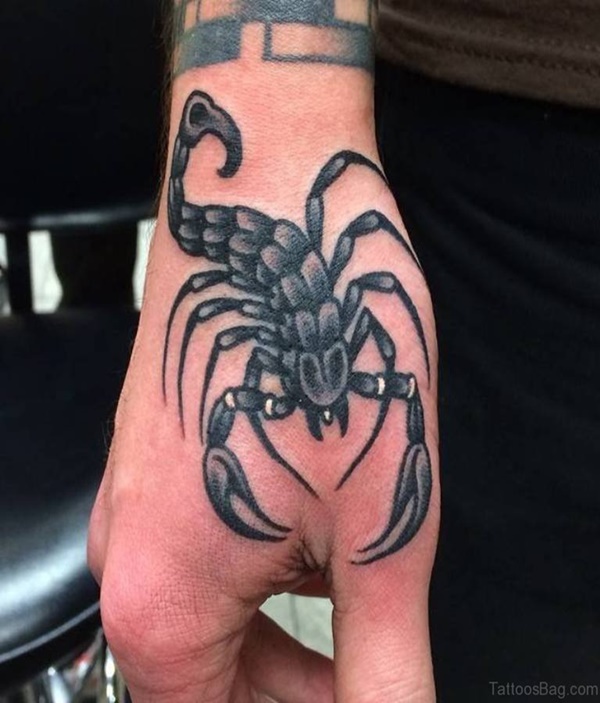 Image Source
Scorpio tattoo on hand are well known for representing the boldness of the person. With this type of tattoo power of healing is also associated. They are the source of motivation for many people and inspire others too by their daring personality. The shading done in this tattoo adds to its attraction and can be inked in small to medium size.
Scorpio tattoo on chest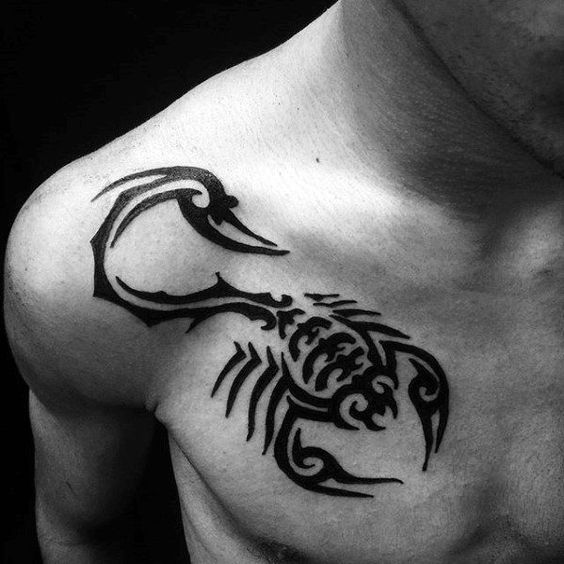 Image Source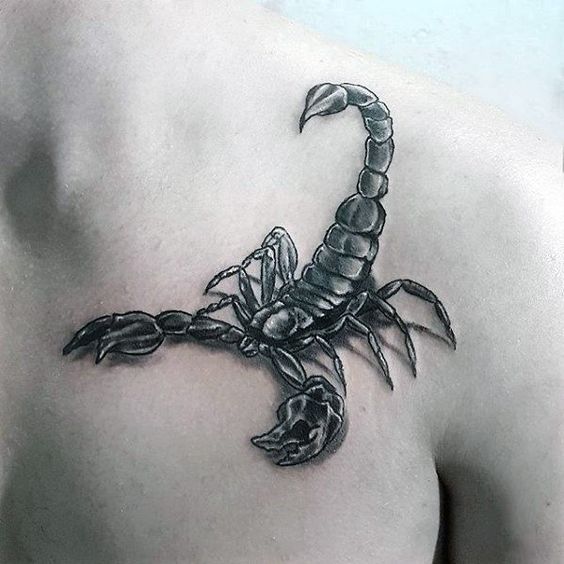 Image Source
A scorpion crawling tattoo is a good design to get inked on the chest. This design is recommended only for men and getting it inked in the black color is the most appropriate one. This design symbolises death and by shading it in a correct way it can look realistic. So, if you want to get this tattoo then you must visit the experienced tattoo artist.
Scorpio tattoo on back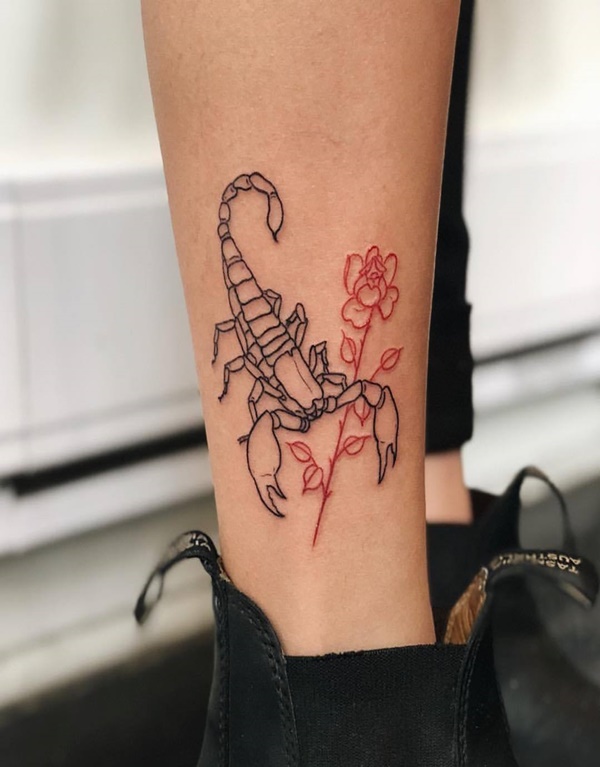 Image Source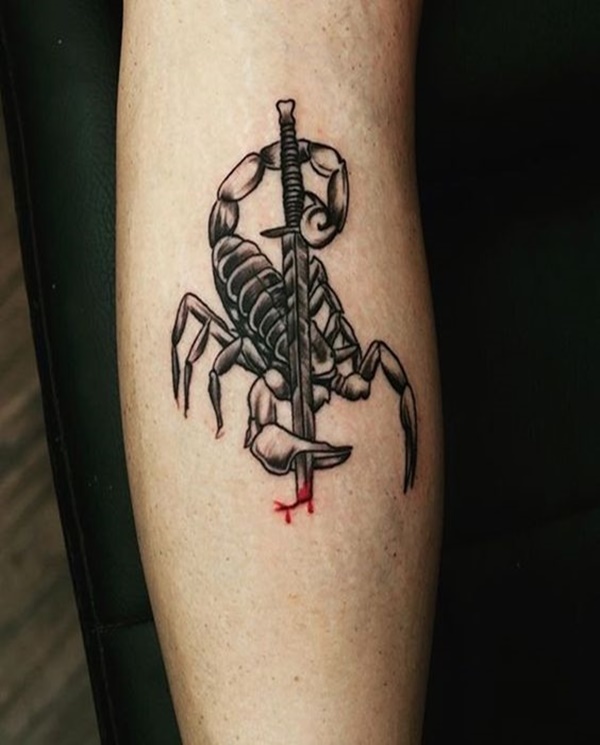 Image Source
If you are looking for a Scorpio tattoo on back then you can go for Stinging Scorpio Tattoo. The scorpio tattoo is a sign of inner strength so whenever you find yourself defensive or offensive, having its stinger raised in your tattoo design will let know others that you are strong. Adding cracks upon the surface of the scorpion tattoo gives it a more praiseworthy look.
Scorpio tattoo on forearm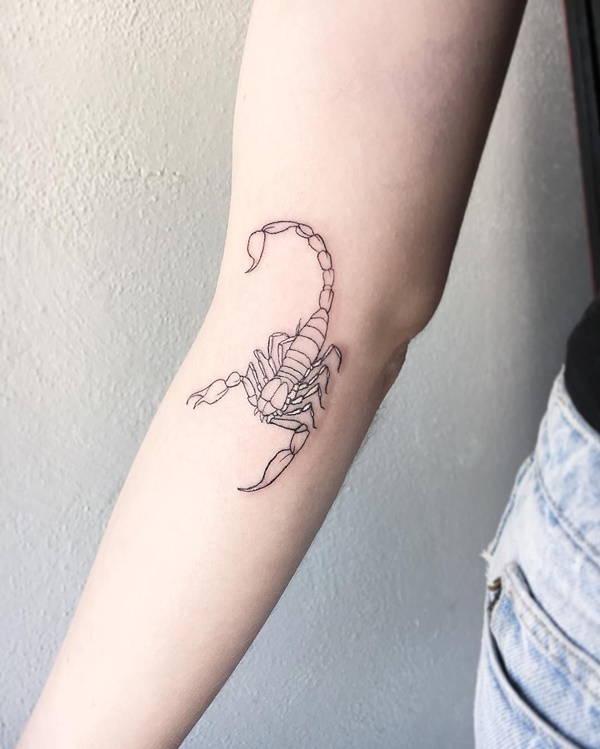 Image Source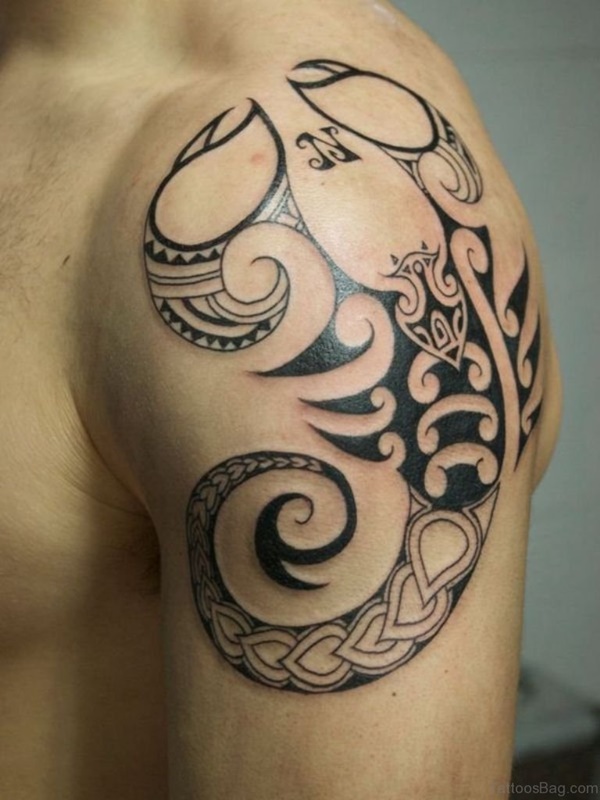 Image Source
Last in the list of Scorpio Tattoo Designs is the Scorpion tattoo on forearm. For forearm, you can choose Sun Scorpio Tattoo. According to their culture, Samaria believes that scorpion also symbolises the sun. This design is supposed to protect all blessed things which lead to pleasure, enlightenment, and ascension. The forearm is the best place to get this tattoo and is highly preferred by those who are a believer of God or are very fond of religion.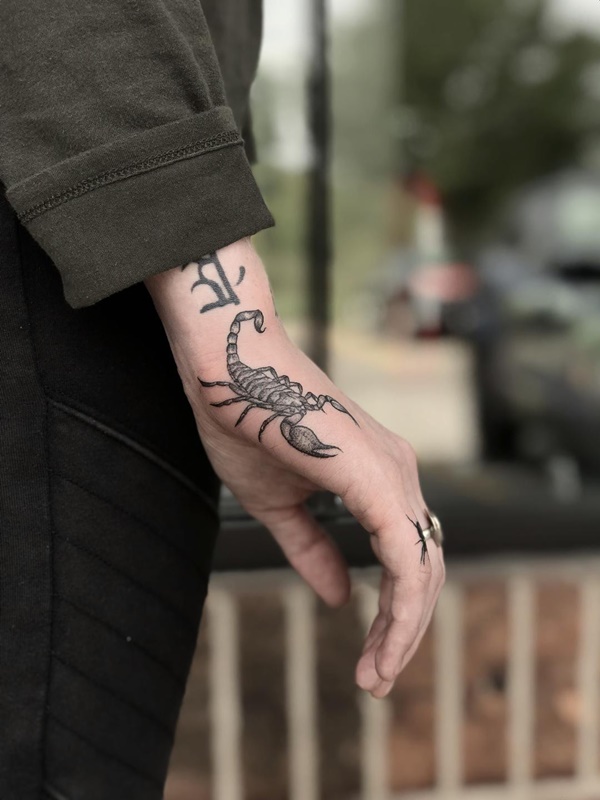 Image Source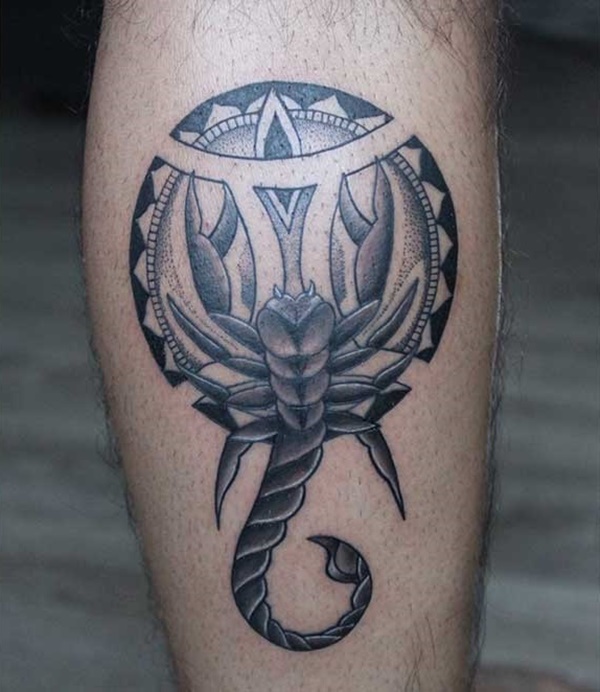 Image Source

Image Source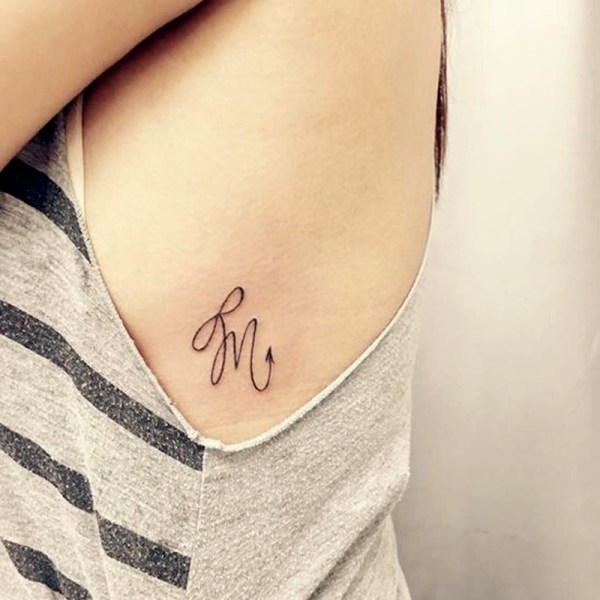 Image Source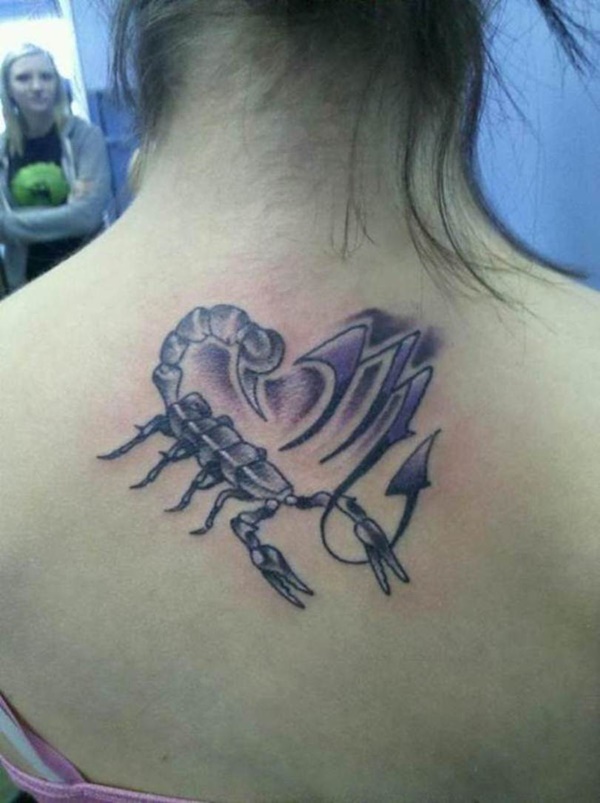 Image Source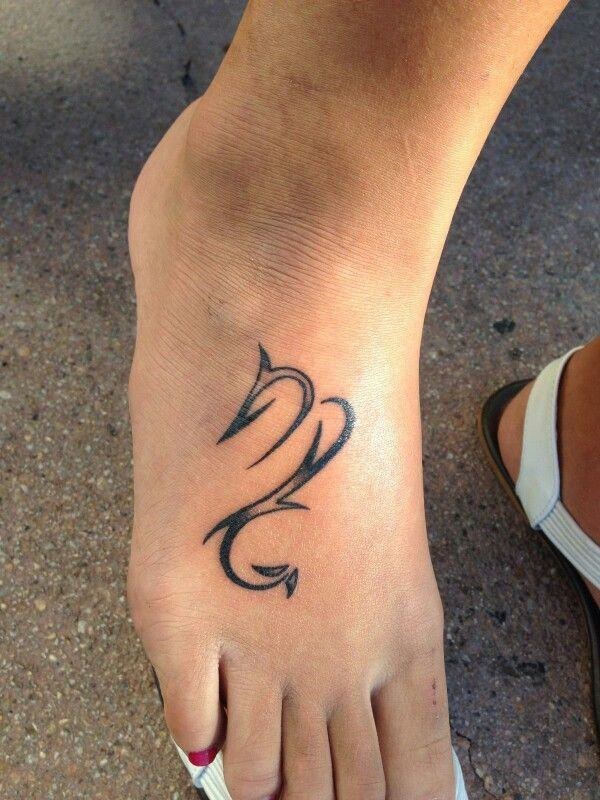 Image Source
Scorpio tattoos are one of the most trendy zodiac tattoo choices among people. Scorpion Tattoo Designs can work for a sign of your personality. It is linked with numerous characteristics of a person such as toughness, passion and savage sexuality, strength, Brave, endurance, perseverance, treachery and so on.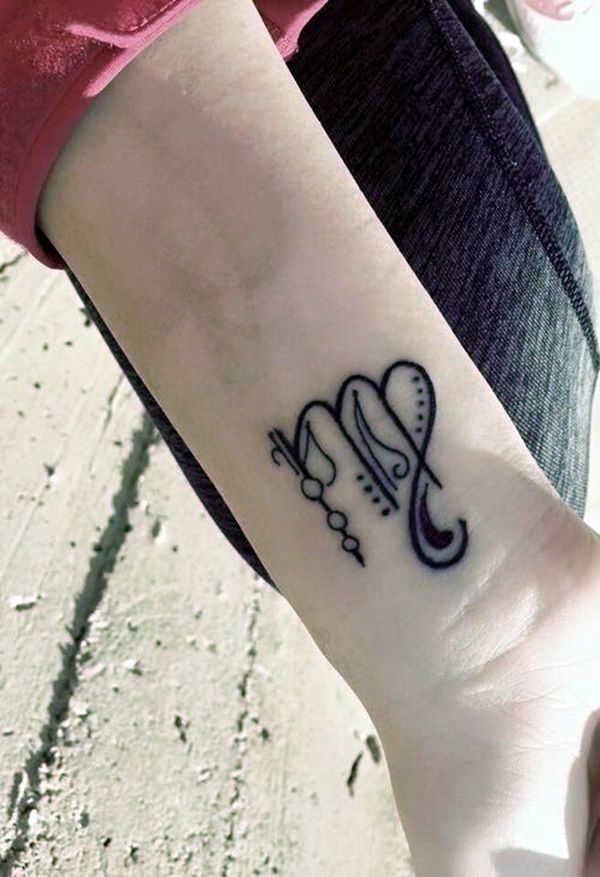 Image Source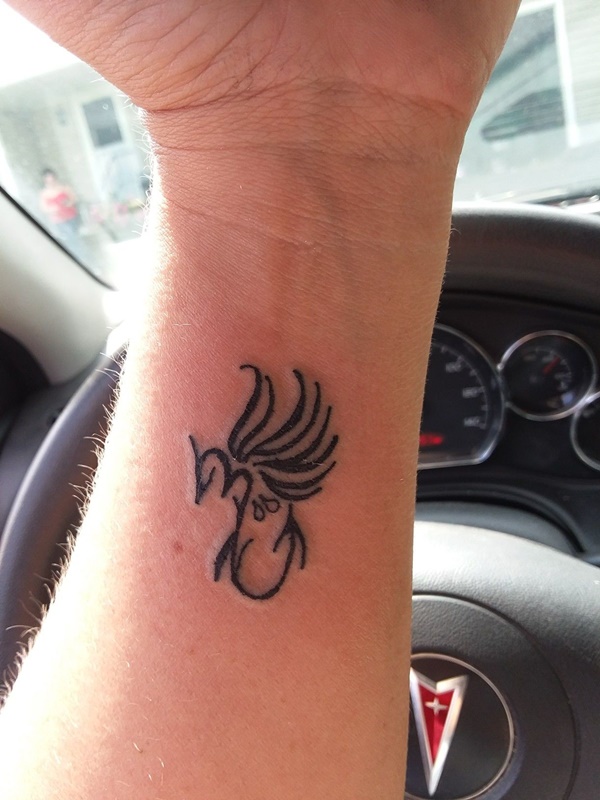 Image Source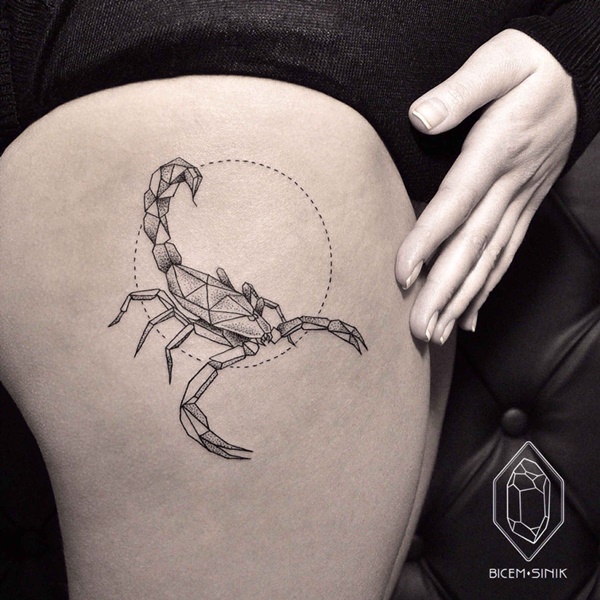 Image Source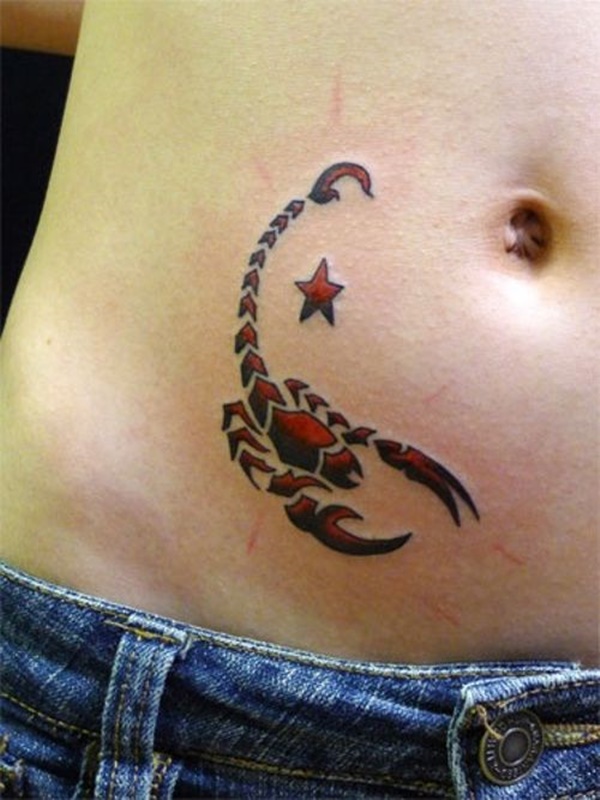 Image Source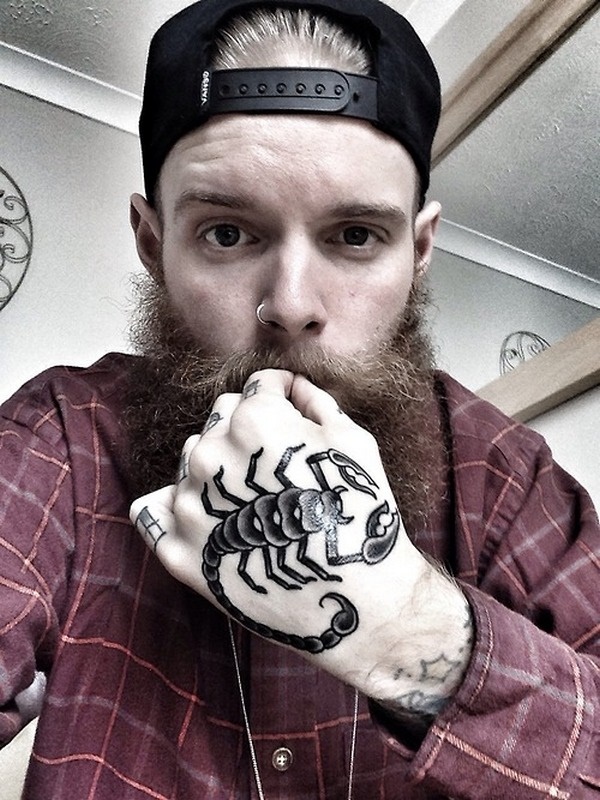 Image Source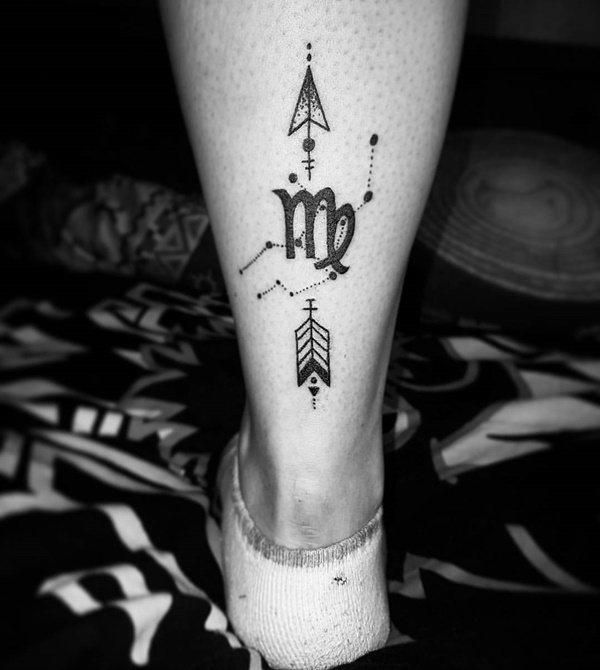 Image Source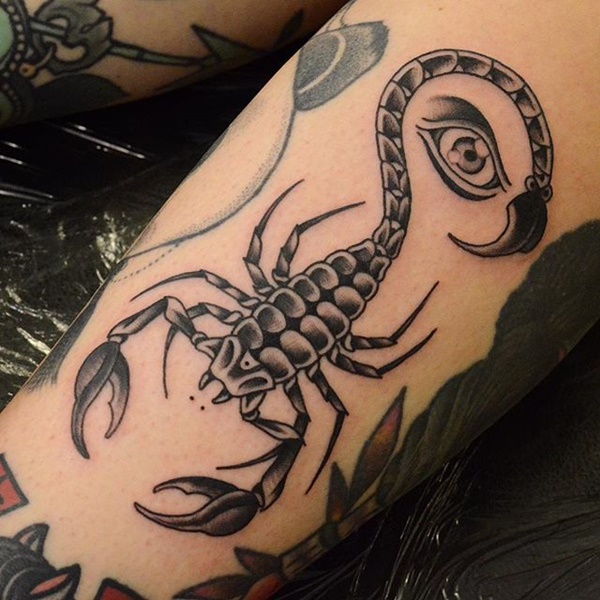 Image Source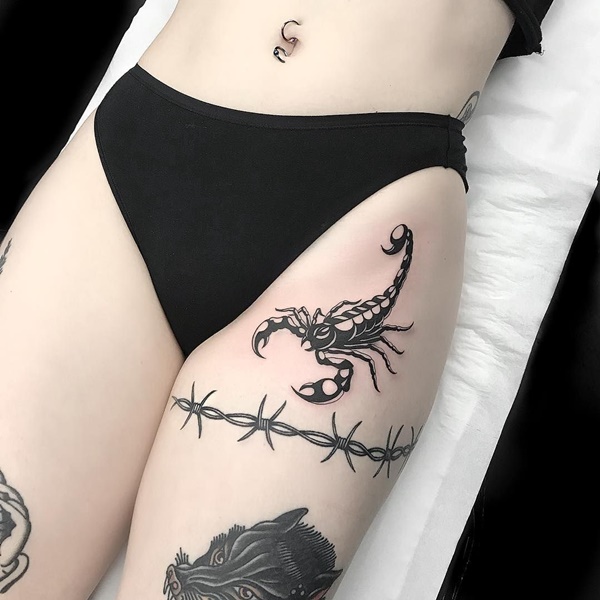 Image Source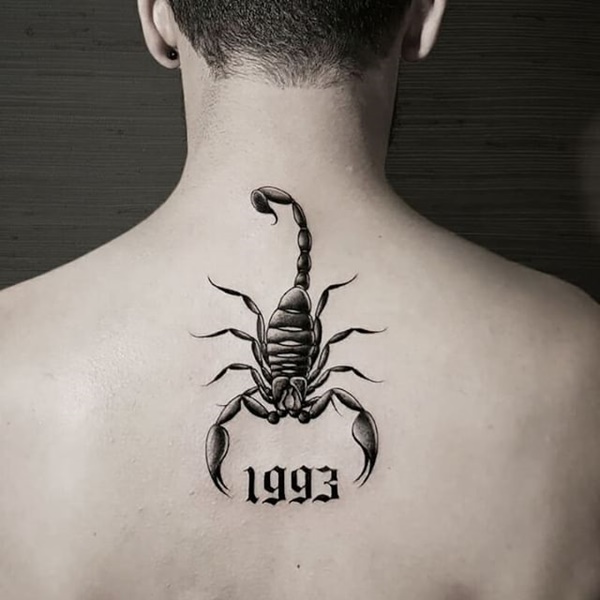 Image Source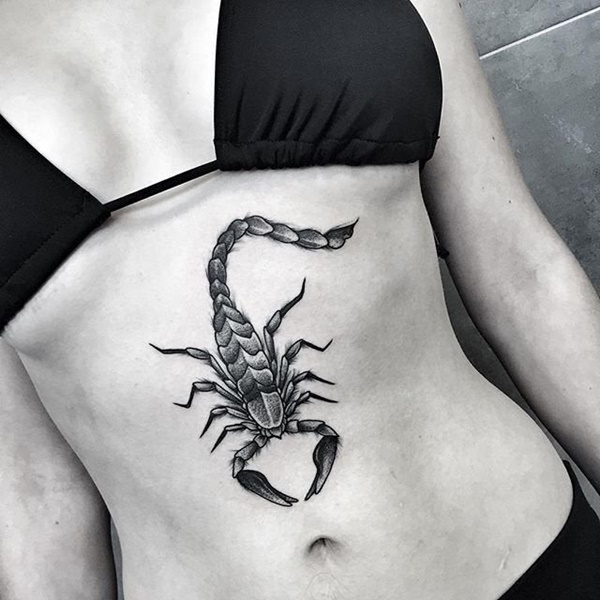 Image Source
Many people select the scorpion tattoo because it is their Zodiac sign. When designed in a proper way scorpio tattoos look astonishing and do well in inculcating fear almost always. Sometimes people simply like the concept of a Scorpio and get it inked. So what are you waiting for? You must choose one of the Scorpio Tattoo Designs mentioned above and get it inked soon.