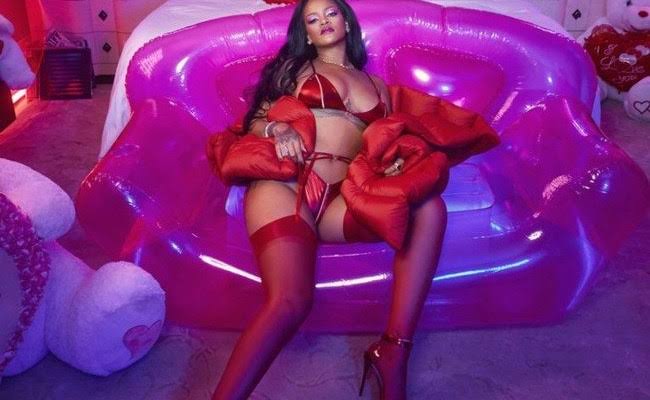 Though the people who are chronically single, dread February 14th, the debut of Rihanna's Savage X Fenty's lingerie is enough for us to look forward to holiday timing, almost every time. Because rightfully speaking, the Valentines' Day lingerie of Rihanna is swoon-worthy. Looking forward to the loved-up holiday coming by, Rihanna, the pop star who is 31- years- old, turned up to design, few of the best lingerie, that can be worn to celebrate love.
The singer, launched her lingerie collection, this Wednesday, officially through an Instagram post, where she was seen wearing an attractive lingerie set, from the new Savage X Fenty's lingerie line. Her picture was captioned with the explicit line, which Valentine's Day is all about one. Rihanna has been bestowed down with love reacts and comments over her pages.
More about Rihanna's new line of lingerie-
The new line collection of Rihanna considers bodysuits, lots of applique hearts and explicit bralettes. The lingerie, as focused on Valentine's Day, is all about red, black and white, the three colours of love and colours loved. Rihanna though comes up with explicit and attractive lingerie, knows how to maintain the line but live an open-minded life.
Rihanna, on the go of revolutionizing lingerie over the World, she took Savage X Fenty on the ramp for New Year Fashion Week on September 2019. She is also stripping away, as it goes towards the love holiday and is also successful in inducing some sweet spirit for Valentine's Day, with a tinge of naughtiness.
When talking about the price, the complete range of lingerie is about $20 which hardly touches $96, thus, it being affordable enough, for the common masses too. The Savage lingerie bundles are also available for purchase and also comes with almost two to three items that are matching.
Few of the lingerie bought by Rihanna this Valentine's Day, are:
Hearts Halter Teddy
Savage X Fenty's hearts halter teddy, is something you would want to own if you are spending a romantic and lustrous night with your loved one. Black, the most attractive colour in which this comes, makes one feel better about themselves. These are quite affordable as they can be bought between the price range of $34 to $50.
Savage X Fenty's lingerie- Lip Embroidered Babydoll
Looking for something that is cute yet attractive for you to spend a seductive night with your loved one, this is what you should have in your bag, to quickly change into and live comfortably in a way.
Open Back Hearts Hipster
Having a cheeky feeling, well, you have to put your hands on these, to make you feel at the most of your mood that is set in for the night to begin. Have a beautiful time wearing these. One feels so comfortable that they can use it even as a night dress during bed time.
Satin and Lace Bodysuit
Make it this 2020, with the Shakespearean wench on yourself. This is comfortable as well as very comfortable, to be worn, this Valentine's Day.
Hearts Unlined Bra
It beautifully hides the nips and thus can be safe for even uploading your pictures on Instagram, if you want to show off your new line of lingerie. It is one great "tease your partner" line from Savage X Fenty's lingerie this valentine!
Geo Mesh Teddy
Cheeky with a bit of sass, that is what this outfit is all about. So, go and grab it, till it is available because the whole town is running to get them up on their wardrobe.
Velvet Heart Pasties
Being in the affordable price range of $15 to $30, one can put their eyes on these pasties, which are velvet and are really attractive.
Metallic Lace Balconette Bra
These, apart from Valentine's Day, are so comfortable, that can legit be worn every day under ones' daily wear. Thus, these should be one thing that should own your cupboard.
Geo Mesh Undie
These undies are good to go with every girl, irrespective of their figure and weight. These look good and are also very go-to elements that should be one of the lingerie, which one should have in their cupboard.
Satin Pajama Top
Want to know the USP of this? It comes in 8 different colours, from which, one can easily choose their loved colour.
Lace Teddy
These have the capacity to make one, thirsty even to an extent of the person reaching out for water. So now you know when and why you should own these.
Overview of her collaboration:
Rihanna's talk on lingerie has melted hearts and has brought a lot more fans to her. Rihanna, while talking about the launch of her Valentine's Day special lingerie set, she said that lingerie is not merely a thing used or spoken about for the exploitation of the female body but also about celebrating it, all year round. Savage, according to this star, is a very powerful word, especially with regard to women empowerment, because, women are always looked down on, as a weak entity. But according to her, while celebrating women, she says that women are completely opposite and are more powerful than one can even think of.
The capsule collection would be the first celebrity collaboration, ever, for the brand. Adam Selman, who is the designer who is responsible for Rihanna's naked dress for the CFDA awards, confirmed to collaborate with the singer superstar on the very launch of the explicit lingerie line.
Selman also talks about how Rihanna influenced the making of the lingerie, by guiding the team as to how she would like it to be. Thus, according to Selman, it was fun to sit back and let her take over and see the process of it being done.
According to Rihanna, she could not think of anyone other than Selman, in order to do the first-ever collaboration with Savage X Fenty and thus, answers the rumours going around about intimate relations between them.
They also go forward to say that they were really inspired by the '80s style and used their cuts and designs in order to bring about this new range.